Afro Brazil Arts Capoeira Wellness and Leadership Program
Afro Brazil Arts provides mindful capoeira classes for people of all ages and abilities. Basic movements can be modified for every ability. We offer performances and gentle classes at your location and at our studio in New York's Lower East Side.
Each class focuses on creating a supportive and safe space for learning. Our mission is to inspire FLC - fitness, leadership, and community. Our method works by developing FDR - focus, discipline, and respect. All lessons begin when students show FDR, focus on the teacher or leader, discipline to stay with the lesson, and respect for themselves, for each other and for the teacher.
Students learn capoeira's basic moves, sequences with a partner, and how to play the "game" of capoeira; we never say fight or spar. There is no contact in our capoeira lessons except to shake hands with our partners.
In a year long program, students will learn 10 capoeira movements, sequences with a partner, 5 songs in Portuguese, basic capoeira rhythm on instruments, and about capoeira's context in the history in Brazil. In addition, students gain confidence in their physical abilities and develop learning and life skills to achieve success in school and in other areas of their lives.
Capoeira Fitness and Leadership Programs end with a culminating event, featuring participants, for students, school community and for their parents.
Afro Brazil Arts welcomes students at all of our events and classes (held at our studio in the Lower East Side), and provides scholarships based on need.
Testimonial
Afro Brazil Arts has brought its remarkable program to our school and our partner junior high school through the New York City Department of Education Arts Continuum Grant. What an impact this grant has had!
The program of teaching the students capoeira, a Brazilian martial arts play/dance form integrates character building, leadership, responsibility, and collegial peer collaboration. Capoeira is very physically demanding and the level of student engagement speaks to the power of Michael Goldstein and Afro Brazil Arts to implement the arts in a way that addresses numerous content areas while simply captivating every student.
This program should be in every school in every grade and while that might not be possible just yet, it is something to consider because this program addresses students' needs and academic achievement in such a comprehensive way. We hope to see an expansion of this program in New York City Schools and we invite the Department to see and appreciate its impact.
The Department of Education is to be lauded for its vision and insight for funding this program and I strongly support the renewal of the Afro Brazil Arts contract and vendor status. We look forward to that renewal and hope to bring the program to our school next year, hopefully through a renewal opportunity of the Arts Continuum Grant.
Neme Alperstein, Teacher
Public School 174 William Sidney Mount
Rego Park, New York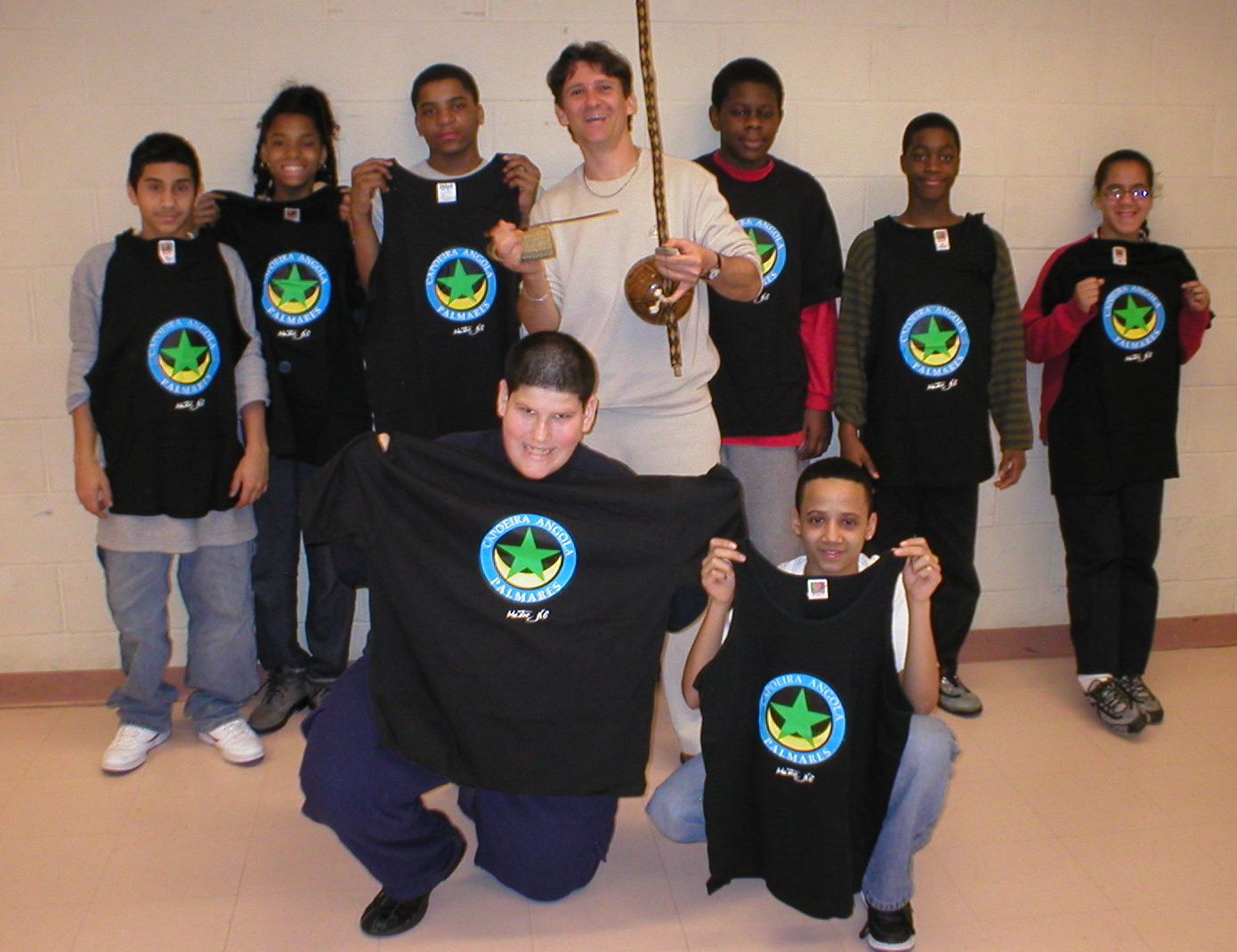 Testimonial
Capoeira is better than Obamacare in several ways!
This unique multicultural approach to conditioning and martial arts is a great way to improve, strength, endurance, flexibility, agility, coordination, and confidence, simultaneously.While this fitness system can be inherently challenging, the rewards for accomplishment are significant.The instructors are true professionals as well - competent, courteous, and encouraging; while always giving safety top priority.
Michael Basso